The #5 Rated Yeast Infection Product: Yeastrol
Yeastrol - #5
Yeast Infection Product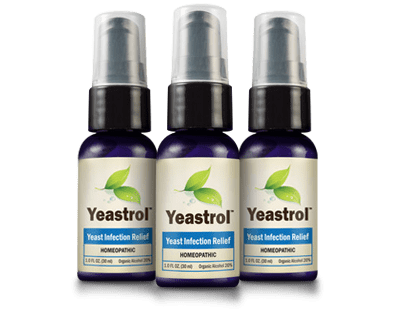 Supplement Facts
Active Ingredients: Baptisia 3X, Borax 30C, Candida alb 12X, Candida parap 12X, Echinacea 3X, Kreosotum 30C, Merc cyan 30C, Merc sulph rub 30C, Nitricum ac 30C, Pyrogenium 200C, Sulphyricum ac 30C, Thuja occ 30C.
Inactive Ingredients: Alcohol 20% v/v, Purified water.
Yeastrol is a homeopathic natural remedy which is used to address various types of yeast infections. Despite the great claims from the manufacturers, this supplement received our fifth choice ranking because this product did not receive many positive reviews.
EDITOR'S RATING
24 User Reviews
Introduction
The following is a review for Yeastrol. According to the company's website, the product attacks a variety of symptoms that plague both men and women who suffer yeast infections. Yeastrol is a homeopathic product that works from the inside out. It comes in a liquid form that is taken orally. The formula contains 12 active ingredients. Keep reading to find out more.
Ingredients
Yeastrol contains all natural ingredients. It has 12 active ingredients. This homeopathic remedy contains no artificial additives and preservatives.
Baptisia Tinctoria

Borax 30C

Candida Albicans

Candida Parapsilosis

Echinacea Angustifolia

Kreosotum

Mercurius Cyanatus

Mercurius Sulphuratus Ruber

Nitricum Acidum

Pyrogenium

Sulphuricum Acidum

Thuja Occidentalis
Dosage
Each bottle contains 1.0 fluid ounce. Spray the liquid twice, under the tongue, three times a day. For best results, make sure you use it for at least six months.
Possible Side Effects
According to the manufacturer's website, there are no side effects to taking this product. All of the ingredients are natural and do not cause skin irritation of any kind. However, there is a warning that in the case of an overdose you should contact poison control and that children under 12, pregnant or breastfeeding women should consult a doctor prior to use.
Price
This product comes in three different package sizes: Sampler Package of one bottle costs $29.95; Tier 2 Package costs $59.95 (2 + 1 free) and the Best Selling Package costs $89.95 (3 + 2 free).
Guarantee
On the company's website, it states that it offers customers a 90-day money back guarantee. If at any point, customers are dissatisfied with the products they can return any unused or unopened items purchased for any reason within the 90 days of their purchase for a refund. Reviews were mixed, with more negative reviews than positive, which made us wonder about the overall performance of the formula.
Conclusion
Yeastrol is a homeopathic natural remedy which is used to address various types of yeast infections and provide relief. It comes in the form of a spray and is gentle. However, we felt that the spray application was less potent than capsules, tincture, or a brush applicator. We liked that it was all natural and that it did not require a prescription. We also liked that it was made in the USA and was an FDA registered company that offers a money back guarantee. We would have liked to have seen more positive reviews that would indicate the performance of the product. However, more reviewers found the product did little to relieve symptoms. Some have used the product regularly for several months and it still didn't work. For these reasons, we placed Yeastrol at the bottom of our list.
Click here to learn about our top Anti-Candida and Anti-Yeast Infection Products.
Ken Everton
reviewed on and gave it a rating of
3
.