The #2 Rated Yeast Infection Product: CandidaGone
CandidaGone - #2
Yeast Infection Product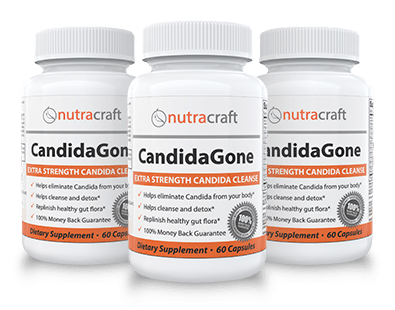 Supplement Facts
Servings Size: 2 Capsules
Amount Per Serving
Oregano Extract (1.75% votatile oils)
500mg
*
Caprylic Acid (magnesium caprylate)
400mg
*
L. Acidophilus (4 billion CFU/G)
100mg†
*
Protease (500M HUT/G)
25,000HUT
*
Cellulase (100M CU/G)
3200CU
*
Aloe Vera (200:1 extract)
50mg
*
Arabinogalactan
50mg
*
Anise Seed (4:1 concentrate)
50mg
*
Black Walnut Hulls (herb powder)
500mg
*
Wormwood (artemisia)(herb powder)
50mg
*
Reishi Mushroom (4:1 concentrate)
25mg
*
* %Daily Value not established
Other Ingredients: Gelatin, rice flour, vegetable magnesium, stearate and silicon dioxide.
This product has been chosen as the second best. CandidaGone is a powerful cleanser and yeast infection support supplement.
EDITOR'S RATING
38 User Reviews
Introduction
This is a review for CandidaGone by a company called Nutracraft. The manufacturer of this product claims that this product is a reliable candida cleanse and support supplement, as well, as act as a general detox.* We liked that CandidaGone works to control the growth of yeast. However, we did not like that CandidaGone is missing some important ingredients and that it does not contain enough strains of probiotics. Read on to find out essential information about this product, as well as, if it is suitability for you.
Ingredients
The ingredient list of this product comprises of the following:
Oregano Leaf Extract

Caprylic Acid

L. Acidophilus

Protease

Cellulase

Aloe Vera Gel

Arabinogalactan

Anise Seed

Black Walnut Hulls Powder

Wormwood Leaf Powder

Reishi Mushrooms
Other ingredients include: gelatin, rice powder, vegetable magnesium stearate and silicon dioxide.
Dosage
The recommended dosage is twice a day with meals.
Possible Side Effects
In some cases, individuals may be allergic to this product. This product contains an allergen warning about several of the ingredients contained in its formula (i.e. Black Walnuts and Caprylic Acid).
Price
The cost of this product is $29.95. The retail value is usually $39.95, thus there is a discount of $10 when purchasing it online. Additionally, through Amazon, they offer free shipping if you spend over $35.
Guarantee
This product carries a 100% money­ back guarantee. This means that the manufacturer is sure of the strength and reliability of the product. This allows the customer to buy this product with relative peace of mind. According to the guarantee, if you are not satisfied with this product, you may return it, along with the unused portion and original packaging for a purchase price refund, minus shipping fees. This product features customer reviews both on the manufacturer's website and on Amazon. The reviews are mainly positive and say that the product works, however, we noted several that made reference to the fact that consumers experienced an allergic reaction to the product.
Conclusion
There are several good reasons why you should purchase this product. The company has a good reputation and provide a very good money back guarantee, which shows that they have confidence in this product. There are no harsh chemicals included and it contains quality ingredients. Its reviews are mainly positive with many people stating that they liked this product and that it helped them with their symptoms. However, there are many warnings of allergic reactions which raised slight concerns over the safety of this product. Furthermore, it contains gelatin, which we felt was unnecessary and limited those consumers who may be vegan or vegetarian, or sensitive to meat products.
Click here to learn about our top Anti-Candida and Anti-Yeast Infection Products.
Ken Everton
reviewed on and gave it a rating of
3
.